Coaching for Creatives & Leaders
I empower creatives to achieve success on their own terms.
I help leaders to be inspirational.
Are you ready to be the best version of yourself and live a life that brings you alive?
Let's talk!
"Working with Nicky has been brilliant! She helped me find confidence again from the very first session and now I'm buzzing with motivation and creative energy."
Marcy Cox – TV executive
"It's all thanks to Nicky's inspirational ways and magical methods that I have now completed my first book.  It's very clear that Nicky cares enormously about the people she coaches, and she's loudly cheered me on as I've hit each milestone we've set together.   I've never felt this determined or confident about myself and my work"
Nina Jervis - Writer
"Working with Nicky has been such a great experience - her positive energy is infectious. Not only are her sessions fulfilling in the moment, but the tangible goals we set quickly helped me attract the type of clients I wanted to work with, whilst adding an even clearer sense of purpose to the way I approach my artistic projects."
James Bone, Writer
jamesbonecopywriting.com
Are you an ambitious creative or leader who yearns to play a bigger, bolder game?
Do you have talent, drive, great ideas and at the same time know that you're not fulfilling your deepest potential?
I help creatives to live a life on their own terms and do work that's truly meaningful. I help leaders to become brilliant and compelling communicators.
My mission is to fire up more people in the world to be authentic, creative and bring bold new ideas to revolutionise the planet.
Being in charge of your own destiny is yours if you choose. If you're ready to blaze your own trail, find your ignition here.
Firestarter Discovery Session
This foundational session will kick-start your passion, get you clear about your ideal life, your purpose, key skills values and give you the rocket fuel to create your ideal career or business…
more info
Create the life and career you really want
If you want clarity on your next ambition or goal.  These sessions will help you to get clearer on the next steps, put together a plan to get going and start taking bold action to make your goals a reality…
more info
Get more of the work you love – niching and narrowing the options
You have been freelancing for a while, but may feel in a bit of a rut. These sessions will help you develop a clear niche so that you can be more focused in your search for your ideal work. You will have an action plan for a career that most inspires you…
more info
Prioritise your Passion Project and complete it
You may constantly prioritise work for other people and your own projects tend to go down the priority list. These sessions help you prioritise, get into great habits and complete an important passion project …
more info
Personal Branding and Self Promotion​
For freelancers and business owners who hate publicity but want more jobs that inspire them. You may have a website, blog and perhaps dabble in social media, but you find it really uncomfortable promoting yourself…
more info
Become a Confident Public Speaker
I've been teaching people how to do TED talks for years and this can be a great option for creatives wanting to raise their profile…
more info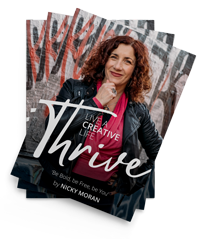 Sign up to Thrive – a free 7-day guide
This is a free, 7-day coaching guide to help you to get clarity on how to be successful, fulfilled and live a creative life on your own terms.
Authentic leadership starts with knowing what you deeply stand for. This is a foundational aspect of our work. We will explore your strengths, values, purpose, and vision.
Hone your public speaking skills so you can communicate well on stage, camera or in meetings.
This is an essential skill for influencing and can help you to be a more compelling and authentic communicator.
Inspire and motivate others
This is a toolkit for managing other people. Learn to balance motivational feedback with challenge, understanding personality styles and develop coaching skills.
I've always been experimenting with ways to build confidence as I believe that it's the most important quality if you want to live a